Manny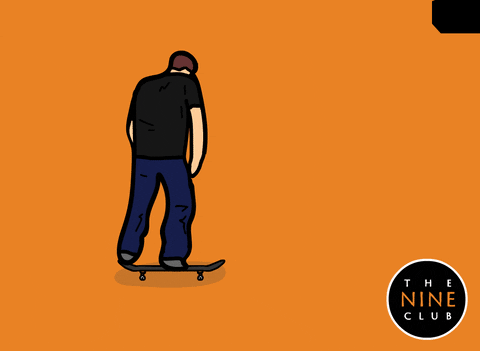 This is a gif of Chris Roberts, a legendary skateboarder doing a switch flip to switch manny on a high curb in west LA. This is of course a damn hard combo to pull off (you should subscribe to his podcast, it's basically Dope Skateboard History with all the detail and stuff).
Because not having insurance is my thing, I'm mostly doing the part where you roll on two wheels and not on a high curb but on sidewalks, okay? That said, the manny I've been practicing is about 4 times longer without a smooth surface, okay Chris? It's a block down the street. An intersection, two houses before hitting the back alley.


Myself, Le Manny  for No Name Skateboards, December 2020 (video)
I clear it everyday now. Usually in four or five tries but sometimes straight out of the house. Landing just like that gif, with a little knee bend. Man, it feels SO GOOD.
It's so much about confidence. You have to control your speed, your balance, your breath. You have to stay focused. You have to execute well. And that's achieved with confidence. But sometimes you fail because you're over confident: almost at the end, you get giddy, lose your balance, it's over. Tenacity is important: so many times, after failing four or five times (I only ride for 30mn before going back to this machine) I want to give up. But then, a last one where I know Imma do it, where I forget everything else in life for the 10 seconds of perfection needed to land that stupid trick and… I land it. That battle against yourself. You can do it. And then you do. You challenge gravity and laws of physics, just on the edge of what's possible.
That feeling is the purest, self-produced crack. Defying odds with consistency is a hard drug.
I love how one second it truly seems impossible or really hard to do –my body is aching or there's a lot of wind– and ten minutes later it feels like the problem doesn't even exist because I just solved it. One second, you fail miserably. Next second, you master completely. There's just something magical. I love it.
The soundtrack to motivate myself? I cleared that sidewalk with Paramore, Mobb Deep, my own music, Chloe & Halle, obscure 80s boogie funk, deep house, Urban Dance Squad, Justice, H.E.R. and more.
Everything works when riding a board confidently.