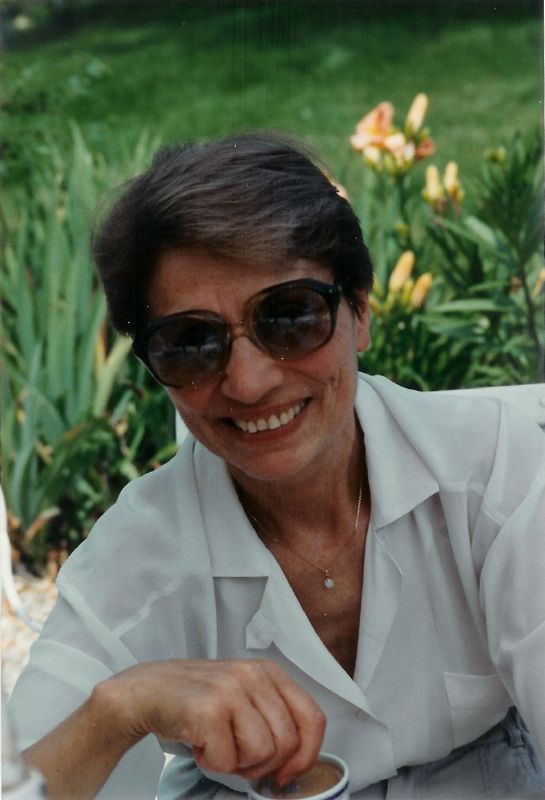 Grandma at her best, in her backyard drinking coffee
I think the first time we met she was in the hospital getting a new, titanium-made hip. Overwhelmed by literally meeting a whole new family, I wasn't really excited. Just going through the motions of what I needed to do. In this case, to say hi to a person on a bed.
Her and my grandfather had a music store (that I never visited) and just had retired. Freshly available and a grandson to take care of? Bet.
After what feels like years but was probably just months, she was in my life at least three days a week for the next decade or so. First, to pick me up after school to go to her apartment in Paris because on Wednesday I had private piano lessons next to the Luxembourg park. Trust me, it's wild to type this right now. Anyway the lesson was an hour long so we had plenty of time to kill, usually by visiting museums in the afternoon after lunch and before going back to the suburbs. Stuck on the freeway, she and her husband would play that radio show which was some kind of Trivial Pursuit type of thing and they would know the answers, all the time. I exaggerate a bit. But they were so often money, it was ridiculous. I was impressed.
Then on weekends my parents and I would go to her countryside house, an hour away from our suburban life. This is where I would end up for vacations too. She had time! So she started cutting my hair. Yeah no fade or cuts, just cutting the excess on top. She would do my mani pedi as well, which is how I learned how to do it myself.
During those snipping sessions, she would talk to me. Like, a lot. "Sweetie I need to tell you about this". And she'd go for 90mn non-stop. Telling me about stories that happened that week. Mostly random neighborhood shit. I have no memory of what I could possibly answer besides "mmh, poor dog" "I know her" "wow!" and stuff that a kid could get away with. She used to boast a bit about her Parisian store and how in the 60s and 70s it was where you had to be if you were cool. She met countless musicians. Manu Dibango was a regular. She might have met Miles Davis, but I'm not sure.
She had the most delicate touch. Her hands, though messed up from early manual work in her life, were the softest. In her countryside home she had benches in the kitchen and while she'd have her coffee, I would lay down and put my head on her lap and she would just caress my still hairy head with grace. I cherished that moment.
It's 2020 she's 95, alone, stuck in a retirement home, and hasn't been touched by a family member for most of the year. My sister sent me a picture, which sent me looking at the corner of the wall and ceiling. She's understandably tired. She still asks about me. The "American". I still write her a letter every year that my parents read to her. The last time I saw her we needed three people to lift her up. Now one suffices.
I love you grandma. You made me a better man. You had all those unsold audio equipment and instruments in the attic and that helped to make me who I am too. You bought me my first bass, that I still have! You let me spin your vinyl that I listened to on those big, white headphones while reading comics. You taught me so much about being a gentleman, being good in general. You didn't bother me with religion, even if you could have. You let me do my thing. You'll always be with me.